High Efficiency

Tankless Water Heaters
Installation and Repair Throughout Rhode Island
The benefits of a tankless water heater are many, including:
Greater energy efficiency because large amounts of water aren't being kept hot day and night when it's not needed
Less chance you'll run out of hot water when you need it as tankless systems create more hot water on demand
Less physical space required for the water heating unit itself
A longer life expectancy for the water heater (typically 15 to 20 years),
Easier to repair, as a technician can repair parts of the unit without having to replace the entire unit, and
Lower monthly hot water bills, as much as 30%
The Plumber Company carries some of the most reliable, efficient tankless water heaters on the market, from trusted manufacturers such as Rinnai, Navien and A.O. Smith.
We carry several models of tankless water heaters: the straight tankless system, a hybrid tank-tankless water heater and a condensing tankless heater. Depending upon the application, these can use natural gas, propane or electricity. What's the difference between them?
Thehybrid tank-tankless system uses the standard connection that your existing water tank uses. It has a tank that stores water so it is a simple job to replace your old water tank with a new one. The benefit it offers is the addition of the tankless heat-boosting unit that ensures your household has continuous hot water without having to wait for the tank to replenish itself and reheat. This is a great upgrade for large families or busy households.
The tankless water heater is typically a much smaller unit. You can find a unit that will fit in places a standard water heater could not. Tankless water heaters produce a continuous supply of hot water as long as water is needed. It is the most energy efficient and produces the least amount of greenhouse gases.
With acondensing tankless water heater the water is preheated as it passes through a heat exchanger, which captures any excess heat before it leaves through the venting system. This can improve efficiency another 14% or more.
The downside of a tankless water heater is greater initial cost both for the unit and the installation. An on-demand water heater will require a larger gas line or an additional electric circuit, as well as special venting.
Financing Available!
The Plumber Company has many financing options available for our customers. We can help you get approved for financing in moments and we ensure you know about all the possible rebates available for your energy efficient water heater. You may qualify for a 0% interest energy loan for the installation of high-efficiency heating products.
If you're ready to buy a new, energy-efficient water heater, let the heating and cooling experts at The Plumber Company help you find the right heater for your needs. We also repair water heaters. Call 401-270-2900 to schedule an appointment
Monday-Friday 8:00 am to 5:00 pm
Evening and Weekend Emergency Service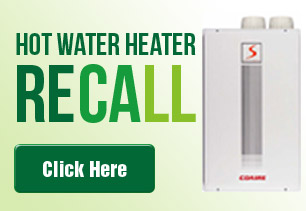 Local

Addresses