Air Conditioning

Repair and Replace
Is your AC making strange noises?
Plumbing Repairs in Providence, Cranston and throughout the state.
A squeal or grind, a hiss or bubbling sound, rattling or clanking – these are all sounds of a problem with an air conditioning unit. Contact The Plumber Company of Rhode Island - 401-270-2900 - to get someone out right away for air conditioner repair service.
Do You Need Air Conditioning Repair Service?
The squealing ofan old belt or grinding of bearings wearing out could disable the blower. That grinding noisecould signal the end of the air handler motor. Hissing or bubbling could mean a leak in the refrigerant line. Even something as common as the rattle or smack of debris caught in the housing has the potential to do damage to the motor or blower. If you have a mini split air conditioning system please visit this page [Hyper link to mini split page].
Your air conditioner is an expensive piece of equipment. If you hear strange noises, shut it off and have it inspected. Our Rhode Island HVAC technicians are highly trained professionals capable of servicing a variety of types of AC units. We will inspect your equipment and give you a free estimate of the cost of repairs.
Are your energy bills higher than you expected?
This could be a sign that your air conditioner is failing. It's having to run longer to get the indoor temperature down, so it's drawing more and more power. An old, failing air conditioner could be costing you $2,000-$3,000 to operate!
Our HVAC technician will examine your AC unit and let you know if the problem is something that can be fixed – and we'll fix it – or if it's time for a replacement unit. Most air conditioning units last 10 to 20 years.
We install air conditioners from some of the best known manufacturers: Goodman, York and Bryant. We'll also show you how you can apply for rebates and financing for home energy upgrades from National Grid. It can make a big difference in the final cost of your system.
Is your air conditioner just not keeping your house cool anymore?
Air conditioners are closed systems. You shouldn't have to replace the refrigerant in the system unless your AC has developed a leak. Our technician will do a comprehensive inspection and if there is a leak, we may be able to recharge your unit to keep it going.
If your unit is older, though, it may be time to replace it, even if it could be repaired. Here's why. Old AC systems used R22 refrigerant, which has been banned by the EPA because of its damaging effects on the ozone. R22 is being phased out and won't be available at all after 2020, so rather than limp along with a unit that will soon be obsolete, now is a good time to get a more environmentally safe replacement with R410A refrigerant.
Unsure If You've Got a Problem? Get a Check-up!
As we head into the long, hot summer, now is the time to get your air conditioning inspected by an HVAC professional at The Plumber Company. Spotting problems early can prevent more expensive problems from developing later on. Consider a maintenance agreement, which entitles you to an annual inspection and cleaning to ensure your air conditioner is operating safely and efficiently.
Our service is 100% satisfaction guaranteed for repairs and installations. Just give us a call: 401-270-2900.
Call for a free estimate: 401-270-2900 or schedule an appointment online and we'll call you back promptly to confirm your plumbing repair or emergency service call to:
Monday-Friday 8:00 am to 5:00 pm
Evening and Weekend Emergency Service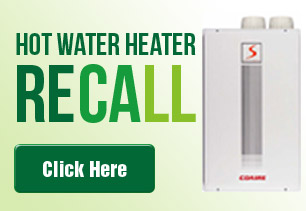 Local

Addresses